Reduce teen car accidents: Start school later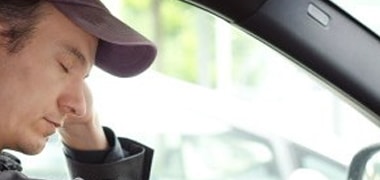 The National Healthy Sleep Awareness Project began its Awake at the Wheel campaign in 2014 to educate drivers – especially teen drivers – about the dangers of so-called "drowsy driving."
Campaign too late for some
The Awake at the Wheel campaign came too late for Lorri Henseler's son Ronnie. The 16-year-old was killed on impact when his teenage friend fell asleep at the wheel. Henseler has since founded No Drowsy Driving (NOD.D.) to raise public awareness about the "dangers of driving impaired due to improper lack of sleep."
Drowsy driving happens at every age, but it's most prevalent among teens
Falling asleep behind the wheel is a common problem for teens. Too little sleep makes car crashes much more likely for inexperienced young drivers especially, as confirmed by a recent study. In fact, car accidents are the leading cause of death among teens, with sleep deprivation a factor in at least 20% of them. More than half of "drowsy driving" accidents involve drivers who are 25 and under.
US teens aren't getting enough sleep…
So says data from the Centers For Disease Control And Prevention. While the American Academy of Sleep Medicine recommends that teens get roughly 9 hours of sleep a night for best health and alertness, the CDC shows that only 31% of high school students report that they sleep at least eight hours on a typical school day.
… in part because they are subject to something called "adolescent phase delay"
Adolescent phase delay pushes back sleep onset timing by approximately two hours, which means that optimal sleep times for teens are 11 PM to 8 AM – the main reason for the push to delay school start times.
Sleep deprivation is as deadly as alcohol impairment
Accidents caused by sleep deprivation are as deadly as those attributed to alcohol. It's been shown that being awake for 24 hours can result in impairments that equal the impairments present when a driver's blood alcohol level is .10 or above. (.08 is the limit for adults in most states, and is .01 to .02 for underage drivers.)
Medical experts weigh in on early school start times and teen car accident frequency
The American Academy of Sleep Medicine (AASM)
AASM president Dr. Timothy Morgenthaler is spokesperson for the Healthy Sleep Awareness Project, which runs the Awake at the Wheel campaign; he stated that CDC-funded research has shown that in 50% of communities that instituted a later start time for high school students, car crash rates for high school age drivers dropped by 65 to 75%.
Dr. Robert Vorona, Associate Professor of Sleep Medicine
Dr. Vorona  and his team performed a study that suggested that teen drivers who start class earlier in the morning has significantly more car crashes than do teen drivers who start later.
The study used data from the Virginia Department Of Motor Vehicles; it showed that the rates for weekday crashes caused by teen drivers was 29% higher in Chesterfield County, Virginia, where classes started at 7:20 AM than in nearby Henrico County, Virginia, where classes started at 8:45 AM.
The study was repeated for the 2010-2011 school year, where the crash rate for 16- and 17-year-olds teens in Chesterfield was 27% higher than for those in Henrico. By comparison, there was NO difference in the adult crash rates for the two counties in either school year.
The American Academy of Pediatrics
On August 25, 2014, the American Academy of Pediatrics released new recommendations for school start times in a policy statement, "School Start Times for Adolescents," published in the September 2014 issue of Pediatrics. An accompanying press release put out by AAP on the same day reiterates that "adolescents who don't get enough sleep often several physical and mental health problems, and increased risk of automobile accidents, and declining academic performance."
Saba Hamiduzzaman, M.D.; Barbara Phillips, M.D.
Drs. Tamiduzzaman and Phillips work in Critical Care and Sleep Medicine at the University of Kentucky's College of Medicine; they commented that "Sleepiness is an important cause of car crashes," and this risk is especially deadly and prevalent in teens.
They also praise Vorona's study, stating that Verona et al "extend our knowledge about one important, modifiable factor contributing to teen crash and potential injury and death on the road…. In our study, teens not only were less likely to crash, but also actually report getting more sleep after high school start times were delayed. Thus, one of the few modifiable risk factors for the chronic sleep deprivation of teens is high school start times. The data are now reaching critical mass."
In short, delayed school start times not only meant that teens were less likely to crash, but got more sleep once those delays were put in place.