Proposed Illinois law seeks to charge negligent truckers with felony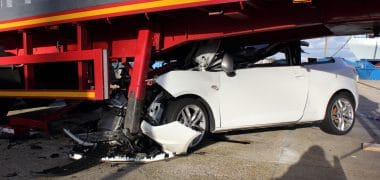 A 2014 Chicago Tribune news story reported that an Illinois tollway worker was killed and a state trooper injured in a truck collision. According to prosecutors, the driver had allegedly been driving for approximately 36 hours with only 3.5 hours of rest. The driver's logbook indicated that he was compliant with federal regulations. However, data from the onboard computer, toll road information and other sources indicated that his records were falsified. It is this type of situation that spurred Illinois state representatives to propose new legislation to stiffen penalties against drivers and carriers that falsify logbooks.
According to the Journal Gazette and Times-Courier, the new law would affect truck drivers and companies who purposefully violate federal limits by staying on the road more than 11 hours per day. Anyone who directly caused harm to another after breaking these federal limits would be guilty of a felony. A Chicago accident lawyer typically understands that violating the current Federal Motor Carrier Safety Administration regulation for logbook entries is a prosecutable offense.
The problem with paper logbooks
The American Trucking Association and many trucking fleets have embraced the use of electronic logbooks. However, there are still a substantial number of companies and drivers who use paper records. Some use unbound logs, which can be easily re-written if a driver decides to add hours to a workday. A Chicago accident lawyer may note that there is motivation for truck operators to change these records so they can stay on the roads longer. Most drivers are paid by the mile and lose money when traffic, road conditions or other factors do not allow them to travel the required distance during the day.
The U.S. Department of Transportation has documented many instances of carriers that were prosecuted for pressuring drivers to falsify records. A common method involves assigning drivers to routes that do not have rest areas in appropriate locations. Under the proposed Illinois law, if this type of violation causes a serious injury or fatality crash, the carrier will be guilty of a Class 2 felony.
Preventing fatigue
The purpose of the federal hours of service limit is to prevent hazards from fatigued drivers. The American Automobile Association Foundation for traffic Safety conducted a study and discovered that six or seven hours of sleep increased crash risk two times over eight hours of sleep. Drivers who sleep less than five hours raise the risk of a crash by four times. Merely driving in the dark for three hours is enough to lower performance, according to the Journal of Sleep Research. Many studies have shown that fatigue creates the same level of impairment as a BAC of .05.
Truck crashes have the potential to devastate a family through severe injuries, permanent disabilities and fatalities. Victims and family members who seek legal counsel from a Chicago accident lawyer may be able to hold all responsible parties liable and receive compensation to cover expenses and pain and suffering.