Illinois hand-held cellphone ban doesn't stop people from texting and driving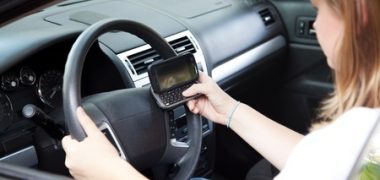 Illinois lawmakers are very aware of the alarming local and national statistics for distracted driving accidents. Effective January 1, 2014, new state laws were enacted to attempt to reduce the number of Illinois drivers who were making calls or texting and driving using handheld devices. The Illinois General Assembly clearly discloses that no person may operate a motorized vehicle on the road while using a handheld electronic communication device. These laws have been in place for over a year. As a car accident lawyer in Chicago might attest, the new measures may not be effective enough in preventing distracted drivers.
To determine the level of seriousness drivers and law enforcement are showing regarding the Illinois handheld ban, Chicago's NBC 5 compared ticketing reports from multiple cities statewide. Law enforcement in some cities are holding strong to the penalties included in the new laws; other cities have been more lenient by offering warnings. In the first quarter of the year in 2014, Hoffman Estates topped the state statistics by issuing over 600 tickets. On the other hand, cities like Palatine tried to give drivers a grace period by issuing over 150 warnings in the month of January, and focusing more on ticketing as 2014 went by.
What qualifies as distracted driving?
Distracted driving is a term that often comes up in relation to state and national cellphone bans and regulations. The Centers for Disease Control and Prevention defines distracted driving as any behavior by the vehicle operator that diverts the use of:
Distracted driving includes everything from being involved in a conversation to fiddling with an electronic device. Whether it lasts a few seconds or several minutes, a car accident lawyer in Chicago would inform you that these seemingly small moments can lead to tragic and life changing incidents.
Driving and cellphone facts
According to the CDC, 1,153 injuries and 9 or more deaths occur each day in the United States due to distracted driving car accidents. Cellular phones and other handheld devices have become an enormous contributing factor in today's distracted driving incidents. With such disheartening numbers spotting today's distracted driving statistics, it is essential that law enforcement and legal representatives hold individuals responsible for their actions on the road.
One survey by the CDC reports that 69 percent of drivers from the ages of 18 to 64 confessed to using their cellphone while driving within 30 days of the survey period. Victims who have suffered injury or loss because of an irresponsible driver should seek fair representation through a car accident lawyer in Chicago.