Illinois fails nursing home review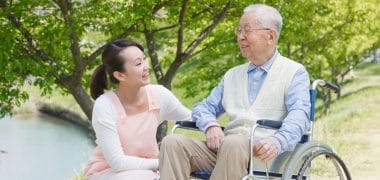 More than 100,000 citizens reside in approximately 1,200 nursing home facilities located within Illinois state lines, according to the Illinois Department of Public Health. Although the department indicates that all Illinois long-term care facilities are regulated, licensed and inspected annually by their staff, Illinois was given a failing grade for providing inadequate nursing home care for elderly residents, as reported by CBS Evening News.
Long-term care facilities function to provide a safe and comfortable living environment with medical staff available for senior residents who are no longer able to live independently. According to the Nursing Home Care Act, all residents have the right to be treated with respect in their personal care program. Yet, there are many cases of nursing home neglect in Illinois, which brings many residents to question what the state is doing to remedy the issue.
Making the grade
After hearing countless stories of nursing home abuse, neglect and medication errors, the executive director of Families for Better Care conducted a comprehensive review of nursing home care in each state, according to the CBS News report. Using federal data from 2012, the group looked at nursing home complaints, inspections, staffing and other deficiencies in the system. The study found that nursing homes in Illinois hired the fewest number of caregivers in the nation, and their facilities provided an average of two hours of residential care daily.
Illinois was not the only state to receive an F-scoring on the evaluation, Texas, Indiana, Missouri, Michigan, Nevada, Iowa, Louisiana, New Mexico, Oklahoma and New York also receiving failing grades. Many nursing homes could improve in areas, such as staffing and the availability of medical personnel. ABC News pointed to poor funding for nursing homes, which restricted them from offering reasonable wages to highly skilled staff members, as a contributing factor. Increased funding, public disclosure of facility conditions, minimum staffing limits and new fine levels may also help turn things around.
Understanding federal nursing home regulations
According to federal regulations, facilities must:
Develop a customized care plan for every resident.
Employ a sufficient nursing staff.
Assist the resident in carrying out daily living activities, such as grooming, maintaining oral hygiene and bathing, if the resident is unable to do these activities on their own.
Ensure each resident receives the proper medical attention they need, including pharmaceutical care.
Provide adequate supervision and assistance to avoid accidents.
Promote the quality of life for each resident.
Instances of poor patient care, neglect and abuse are to be avoided at all times.