How does a trucker jackknife a semi?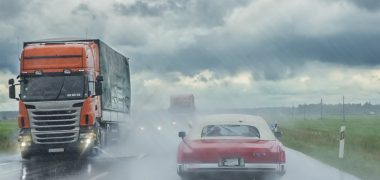 The improved economy has brought more traffic to the roadways in Illinois, with more tractor trailers needed to fill consumer demand. A personal injury attorney in Chicago may fear that this boom may be contributing to the steep rise in truck accident fatalities since 2011. There are many risk factors that are unique to tractor trailers. National Highway Traffic Safety Administration data reveals that jackknifing is involved in 10 percent of all fatal truck crashes.
When the trailer swings around to a 90-degree angle from the semi, it is known as a jackknife because it looks similar to the acute angle of a folding pocket knife. This movement is more than a simple skid or swing to one side. Although these sideways trailer motions can cause a serious collision, the driver may be able to correct the alignment. When control of the truck is lost, the size and weight of the vehicle often causes serious harm.
Configuration risk
Tractor trailer configurations are different in their levels of danger, as a personal injury attorney in Chicago may know. For example, a five-axle tractor semitrailer with a 45-foot trailer has a lower risk of jackknifing after a sudden lane change or steering correction than a semi pulling two 27-foot trailers.
Combination vehicles such as doubles and triples are typically heavier and longer, so drivers should have more knowledge and skill before getting behind the wheel to haul these configurations. Triple 27-foot trailers present the highest risk, as they have a 3.5 times greater probability of jackknifing than the single 45-foot trailer under the same conditions.
Cargo can cause a trailer jackknife if it is not loaded and balanced correctly. It is essential to ensure that the freight is kept as low to the ground as possible, centered and spread out. When the cargo shifts on a turn, it can lead to a crash.
Jackknife prevention techniques
Trucking Truth provides information on how to avoid jackknife accidents for those who are studying to obtain a commercial driver's license. Drivers should make all movements slowly and deliberately and avoid distraction and fatigue, which can prevent the truck operator from noticing an unexpected traffic situation in time to adjust to it. It may also occur when the braking components are not in perfect working condition or are not applied correctly. Downshifting, accelerating on a slick surface or entering a curve too quickly also put the truck at risk.
Although driver negligence is often a factor, more than one of these factors can be at play in a single collision. The manufacturer or maintenance person may be responsible for faulty brakes. The individuals at the loading dock may also be at fault if the accident is caused by a shifting load. A personal injury attorney in Chicago may be able to help victims of a truck crash to hold all responsible parties liable for the damages caused by the accident.